December 18th, 2014
Dearest music fans out in MusicLand,
Thanks for jumping onboard the Classical Tune-Up blog — now do one better and tune IN tonight, or over the next week on the fabulous streaming technology we offer here at KUSP. 
December is filled with some very notable composers birthdays — and none can be bigger than Mr. Ludwig van Beethoven, who happened to be born on this very day — 17 December 1770 — though there is some dispute as to the exact date. So over the next three weeks, I will present various and sundry works of his, all of which culminates with the monumental 9th Symphony that I will present on my New Year's Eve show in two weeks. 
However, before all of that, we have others of note, each of whom I will represent on tonight's episode — and two happen to be American:
Edward MacDowell (American)

Oliver Messiaen (French)
Elliott Carter (American)
Here are some photos of these guys in the above order: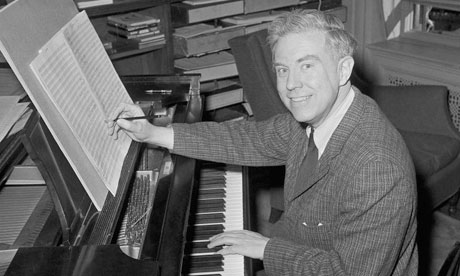 Messiaen and Carter are decidedly 20th Century composers, while MacDowell was firmly planted in the 19th Century.
Enjoy their music tonight. And thanks for tuning IN to Classical Tune-Up!
-Christopher Smith
Tonight's detailed playlist is here:
Classical Tune-Up
Wednesdays 7:00-9:30pm
Playlist for Wednesday, December 17, 2014
Hosted by Christopher Smith
Time
Composer
Selection
Performers
Record Title
Label
7:04
Robert Schumann (1810-1856)
Four songs for double choir, Op. 141

1. An die Sterne

2. Ungewisses LIcht

3. Zuversicht

4. Tallismane

Cambridge Singers

John Rutter, dir.

Cambridge Singers – A Cappella
Collegium Records (1993/2011))
7:18
Francis Poulenc (1899-1963)
Chansons françaises (FP 130)
7:40
Edward MacDowell (1860-1908)
Hamlet & Ophelia, Op. 22
Ulster Orchestra

Takuo Yuasa, conductor

Edward MacDowell: American Classics: Suites 1 & 2/Hamlet & Ophelia
Naxos (2000)
7:58
Oliver Messiaen (1908-1992)
Quartet for the End of Time
Amici Ensemble:

Joaquin Valdepeñas, clarinet; David Hetherington, cello; Patricia Parr, piano; Scott St. John, violin

Oliver Messiaen:  Quartet for the End of Time – Theme and Variations
Naxos (2001)
8:49
Elliott Carter (1908-2012)
A Symphony of Three Orchestras
New York Philharmonic

Pierre Boulez, conductor

Pierre Boulez:  Carter & Varèse
Sony Classics (1995)
9:10
Ludwig van Beethoven (1770-1827)
Six Bagatelles, Op. 126
John O'Conor, piano
Beethoven Bagatelles
Telarc Digital (1996)