Podcast: Play in new window | Download
Former Santa Cruz resident Lorna Dee Cervantes, now a well-known and frequently published poet living in Colorado, joined host Dennis Morton for the Poetry Show on February 12, 2012. Earlier in the day, Ms. Cervantes was a featured reader at "Poetry Festival Santa Cruz". Her latest book is titled "CIENTO: 100 100-Word Love Poems".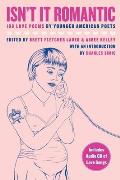 In the opening segment of the show, Dennis read several poems from "Isn't It Romantic: 100 Love Poems By Younger American Poets".